chartered & certified accountants
With more than fifteen awards available for different styles, media and subject matter, the RSMA attracts all that is best in contemporary marine art.
2022 saw Murray's once again sponsoring the RSMA's Commercial Fishing Award. This year, however, we also funded a second prize. Congratulations to the recipients, Alistair Butt and Michael Salt whose prize-winning pictures can be seen below.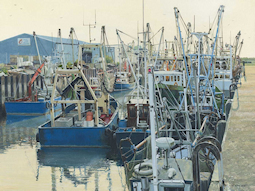 For a complete review of the 2022 exhibition go to

RSMA Review 2022

. The standard seems to improve year on year and we hope to continue our sponsorship in 2023. For details on how to enter next year's competition go to

www.rsma-web.co.uk

.




murray's in the local community:


Since the majority of our core business is based in our local community, it has always made sense to us that we should proactively promote the benefits of working together to improve that sense of community.

Below you'll find some of the institutions and events we're involved with. Please visit their web sites and, if you can, get involved yourself!